Team Exercise: What are the key brand-aligned messages that are likely to make these actions happen?
How to complete these exercises
Each of the five big questions is supported by a handful of activities to help you design the best possible outline for your customer journey map.

The easiest way to do this is to pull together a small group (no more than 5 people) from across the different areas of your marketing team
and hit the whiteboard. Your aim here is to have customer insights from across a variety of marketing channels and customer stages,
but you also want to stick to a small group that can power through rather than get stuck in 'committee land'.

Also don't feel like you have to do everything in one sitting. Often breaking this process up into smaller sessions can work better as it allows
breathing space and your team's creative juices to flow without getting too bogged down in one marathon session. It also gives you time to
pull in any data or insights that you find you need to answer specific questions.

If you need help or have questions about the exercises, contact the Cooperate team.
Objective
Now that you have an understanding of the actions that you're looking to encourage your customers to take at each stage of their
journey, this exercise will help you match up your customer needs to your broader brand messages. It's great to meet customer
needs, but if your messaging isn't aligned to both the need and your business objectives then it's unlikely to result in your desired action.
Exercise
In the 'Customer Need' column of the table below, start by writing down each of the customer needs you identified in the previous exercise.

In the 'Brand Message' column, define an appropriate brand message or proposition that answers that customer need. This can be an
existing brand message, or you may need to identify a new brand message to fit this particular need.

For any new brand messages, consider the natural strengths and offerings of your brand or product as it relates to the very specific
need identified in the left column; your ideal brand message should integrate the question or need with your brand message.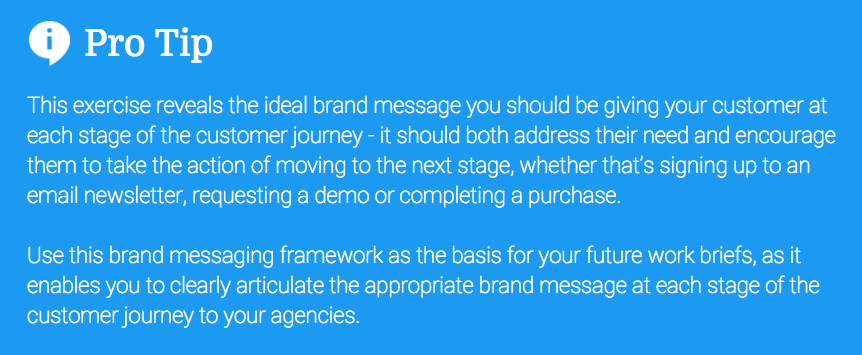 This article is an excerpt from our ebook: 5 Big Questions to Map your Customer Journey which you can download here.