Shockingly, one-third of marketing assets go unused or under-utilised according to a report by IDC. If you're anything like the average B2B organisation that means you're spending days/weeks creating hundreds of new marketing assets each year at the cost of tens of thousands of dollars, with over 30% of that investment being wasted.
Many senior B2B marketers see this as an efficiency and asset storage problem that needs to be solved with a standalone Digital Asset Management (DAM) system. However, better asset storage, mate tagging and licence control doesn't mean that your marketing and sales teams will get better usage and results from your asset investment.
At the end of the day a standalone DAM is just that - a siloed management space to better store and categorize the thousands of assets that exist for your brand and varied marketing activities.
In today's customer-centric landscape leading B2B marketers have been seeking a more holistic approach to managing their digital assets, one that aligns their marketing assets with their customers needs and path to purchase - enabling B2B marketing teams to understand in real-time which assets are driving critical customer actions across the path to purchase, and allowing them to measure asset performance as it directly relates to revenue generation.
Because let's be honest, when has implementing a standalone asset storage solution helped generate more leads or demonstrated how your marketing teams assets are contributing to the bottom line, the key business objectives that really matter to your C-Suite.
What is a Digital Asset Management (DAM) system and why is it needed?
If you're new to the concept of what a Digital Asset Management (DAM) system does and how it benefits your business, then in this section we'll quickly explore what a DAM actually does. If you're already up to speed here feel free to skim ahead.
Simply put a DAM is a technology solution that enables users to store, organise, find, retrieve and share digital content. For a B2B organisation this is usually focused on marketing and sales content. These technology solutions provide your marketing and sales teams, agencies, contractors and any other key stakeholders with a centralised asset repository, which can include images, photos, creative files, video, audio, presentations, documents and more.
Why are they needed? Well it all really comes down to the volume of marketing and sales assets needed in today's marketing landscape, with the explosion of different digital marketing channels (each with their own formats) and the drive for personalisation of content (resulting in multiple asset variations), the volume of asset production has risen accordingly.
"For a brand like Pepsi, it was once sufficient for us to produce four pieces of content a year -- mainly TV -- and we could spend about six to eight months developing that one piece of content and spend $1 million on each piece of film. Now, that four pieces has turned into 4,000; eight months has changed to eight days and eight hours; and budgets have not gone up." Brad Jakeman, President of the Global Beverage Group at PepsiCo.
With the exponential growth is asset production, having an effective management solution is critical to maximising productivity. When assets cannot be located, added costs go into having to recreate or repurchase them, or even worse some assets can be lost forever if they haven't been stored correctly. To add to the chaos, without a centralised DAM many assets end up scattered across different systems, social channels and user desktops, never to be properly catalogued or stored. Without a DAM B2B companies are losing time and money, and gaining large amounts of frustration that could be easily avoided with the right solution.
Why a standalone DAM is no longer good enough for B2B organisations
We've already established that a DAM is a pretty critical piece of technology for any B2B organisation, the challenge for B2B marketers today is the fact that 95% of all DAM solutions in market are standalone.
A standalone DAM does just that, digital asset management and nothing more. While these solutions usually offer limited integrations into other Martech and CRM platforms that are still essentially a siloed system for asset storage. Not only is this yet another system for your teams to log into, it doesn't enable your team to see in real-time how your assets are being used across your campaigns and marketing activity.
In comparison an integrated DAM, such as Cooperate, centralises your digital asset management and marketing operations into a single unified platform, with all of your assets and marketing activity aligned to your B2B customer journeys so you can ensure they are driving clear business objectives.
Let's look at a Sales Enablement example:
In a standalone DAM your sales team can easily find and access the latest version of a particular whitepaper. The marketing team can be confident they're not using outdated collateral and can see how often that asset has been accessed.
In the Cooperate platform the sales team can use the Asset Manager to quickly find the same whitepaper, or even better they can use their Sales Enablement Customer Journey map visualisation in the platform to identify which whitepaper is the best piece of collateral to send based on the customers persona and stage along the path to purchase. The marketing team not only has confidence that sales is using the latest and greatest versions, they can also see in real-time how the usage of that whitepaper for that particular persona at that stage of the journey is impacting the desired customer actions to optimise the path to purchase.
This fully integrated level of insight lets the marketing team understand the why behind the performance of particular assets, instead of just the when. For B2B organisations this level of insight is critical to generating more leads and converting those leads into sales revenue.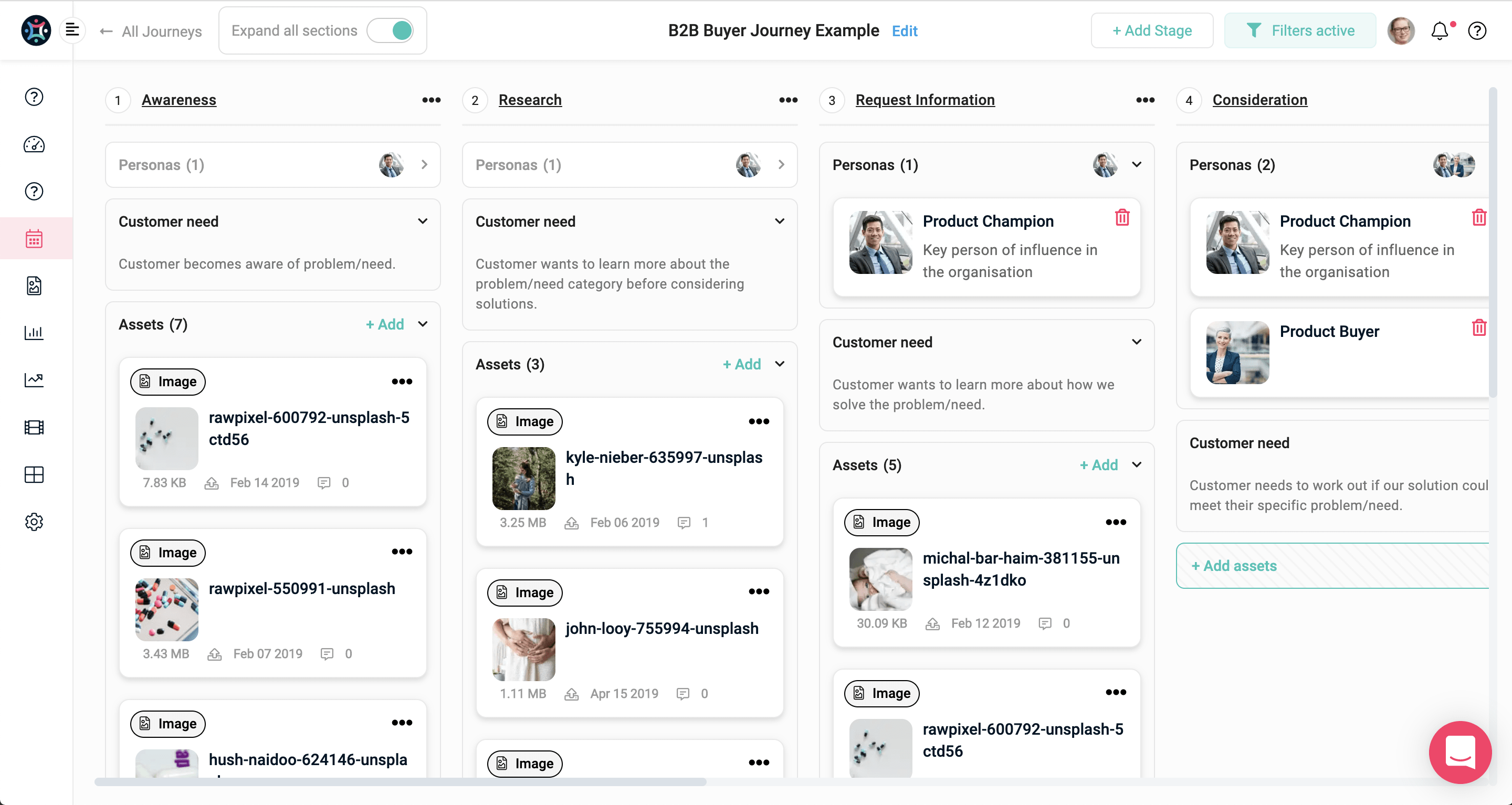 Through this framework leading B2B organisations can even A/B test their assets across the customer journey to identify the optimal assets to drive conversion for each stage, enabling marketing to clearly demonstrate value to the growth of the organisation and it's bottom line.
How does this impact global-to-local production?
With assets integrated with Customer Journeys, Campaigns, Tasks, and Content in the Cooperate platform, global and local marketing teams have greater insight into what assets are performing best for different markets and the ability to quickly repurpose those assets to drive opportunity for their own market.
With all of your global and local marketing teams working together in a unified environment, complete with asset workflow management, flexible approvals and advanced permissions, global teams can now provide local teams with immediate access to the right assets and have the confidence that those assets are on-brand and in alignment to the customer journey.
In Summary
To sum up, if you don't have any form of DAM in place or if your standalone DAM is not delivering the level of insight you need, consider an integrated customer focused platform such as Cooperate.
Unlike a standalone DAM, Cooperate enables you to close the loop on digital asset management and performance so that you know which assets are delivering results across your customer journeys, and which are not.
If you are wanting to use and manage your assets in a way that drives greater revenue for your business, then simply reach out and request a demo of the Cooperate platform today.